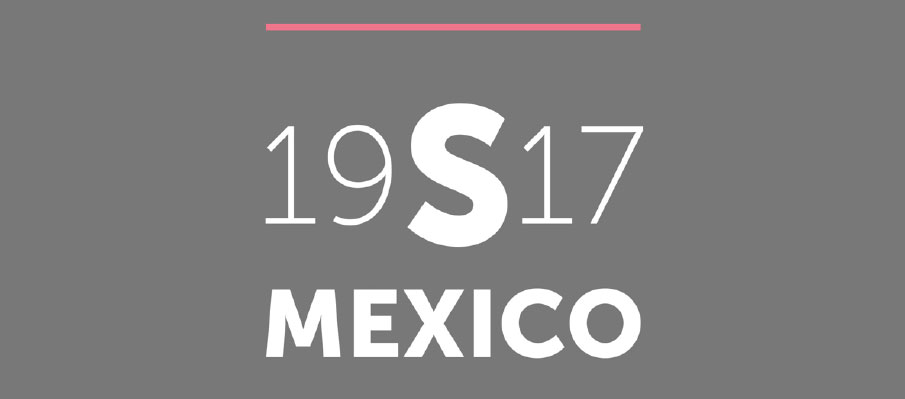 19S17 Mexico. It is more the hope. Real life stories of the 2017 earthquake
Author
Several Authors
Category : Natural disasters
Subtheme Earthquake
Information
Series: Demac Prizes. Contest: It is more the hope. Real life stories of the 2017 earthquake.
Fuente bibliográfica: 19S17 Mexico. It is more the hope. Real life stories of the 2017 earthquake. Mexico, DEMAC, 2018.
Abstract
Women who tell in writing their stories of the 2017 earthquake.
Women who dare to convey to us their intimate experiences of a national catastrophe of which we have not recovered yet.
Here you will find descriptions of what happened in women's voices.
From aggrieved looks that scrutinize through slits and dark holes, will find unusual stories.
They will revive the sufferings of then, because they are stories told without the filter of time.
Stories written the following day, when the sirens still sounded.
Only rage against a destiny that imposes its merciless fury is capable to make vibrate with the eloquence of these writings.
They are vigorous stories that not too many years ago women could not have told in writing because there were no spaces for them.
This volume comes to be added to other volumes from DEMAC publisher which is in charge of rescuing the most endearing stories of women who dare to tell them in writing.
We hope that these stories encourage other women to tell theirs so that they become part of the hundreds of autobiographical testimonies guarded by DEMAC.
Keywords: 2017, earthquake, eng, It is more the hope, life and death, natural disasters, pdf, September 19
Comments
anamaria
2022-10-05 04:41:00
newLiTag += `${element}` newLiTag += `${element}`
Maria
2022-10-01 01:26:07
* { margin: 0px auto; padding: 0px; text-align: center; } .cont_principal { position: absolute; width: 100%; height: 100%; overflow: auto; background: rgb(250,249,247); background: -moz-linear-gradient(-45deg, rgba(250,249,247,1) 0%, rgba(221,218,209,1) 100%); background: -webkit-linear-gradient(-45deg, rgba(250,249,247,1) 0%,rgba(221,218,209,1) 100%); background: linear-gradient(135deg, rgba(250,249,247,1) 0%,rgba(221,218,209,1) 100%); filter: progid:DXImageTransform.Microsoft.gradient( startColorstr='#faf9f7', endColorstr='#dddad1',GradientType=1 ); } .cont_centrar { position: relative; width: 500px; } .cont_todo_list_top { position: relative; float: left; width: 100%; height: 60px; margin-top: 20px; box-shadow: 1px 15px 25px -5px rgba(0,0,0,0.3); } .cont_titulo_cont > h3 { text-spacign:2px; text-align: left; margin-left: 25px; letter-spacing:7px; font-size: 12px; color: #fff; font-weight: 400; margin-top: 23px; } .cont_titulo_cont { position: relative; float: left; width: 430px; height: 60px; background: rgb(42,72,107); background: -moz-linear-gradient(left, rgba(42,72,107,1) 0%, rgba(80,122,167,1) 100%); background: -webkit-linear-gradient(left, rgba(42,72,107,1) 0%,rgba(80,122,167,1) 100%); background: linear-gradient(to right, rgba(42,72,107,1) 0%,rgba(80,122,167,1) 100%); filter: progid:DXImageTransform.Microsoft.gradient( startColorstr='#2a486b', endColorstr='#507aa7',GradientType=1 ); font-family: 'Open Sans', sans-serif; } .cont_add_titulo_cont { position: relative; float: left; width: 70px; height: 60px; background: rgb(42,72,107); background: -moz-linear-gradient(left, rgba(42,72,107,1) 0%, rgba(80,122,167,1) 100%); background: -webkit-linear-gradient(left, rgba(42,72,107,1) 0%,rgba(80,122,167,1) 100%); background: linear-gradient(to right, rgba(42,72,107,1) 0%,rgba(80,122,167,1) 100%); filter: progid:DXImageTransform.Microsoft.gradient( startColorstr='#2a486b', endColorstr='#507aa7',GradientType=1 ); } .cont_add_titulo_cont > a { display: block; color: #fff; font-size: 32px; margin-top: 14px; } body { background: rgb(250,249,247); background: -moz-linear-gradient(-45deg, rgba(250,249,247,1) 0%, rgba(221,218,209,1) 100%); background: -webkit-linear-gradient(-45deg, rgba(250,249,247,1) 0%,rgba(221,218,209,1) 100%); background: linear-gradient(135deg, rgba(250,249,247,1) 0%,rgba(221,218,209,1) 100%); filter: progid:DXImageTransform.Microsoft.gradient( startColorstr='#faf9f7', endColorstr='#dddad1',GradientType=1 ); } .cont_crear_new { position: relative; float: left; width: 100%; -webkit-transition: all 0.5s; -o-transition: all 0.5s; transition: all 0.5s; /* Propiedades Desactivadores */ -webkit-transform: scale(0,0); -ms-transform: scale(0,0); -o-transform: scale(0,0); transform: scale(0,0); height: 0px; margin: 0px; } .cont_crear_new_active{ -webkit-transform: scale(1); -ms-transform: scale(1); -o-transform: scale(1); transform: scale(1); height: 0px; margin: 10px 0px; height: 190px; } .cont_add_titulo_cont > a > i{ transition: all 0.2s; -webkit-transition: all 0.2s; -o-transition: all 0.2s; transition: all 0.2s; } .cont_add_titulo_cont_active > a > i{ -webkit-transform: rotate(130deg); -ms-transform: rotate(130deg); -o-transform: rotate(130deg); transform: rotate(130deg); } .table th { font-size: 14px; font-family: 'Open Sans', sans-serif; color: #607D8B; } .table td { width: 33.33%; } .table td select { width: 100%; padding: 10px 0px; background-color: #fff; box-shadow: 1px 5px 10px -5px rgba(0,0,0,0.5); text-align: left; } .table td input { width: 93%; padding: 10px 2%; background-color: #fff; border: none; box-shadow: 1px 5px 10px -5px rgba(0,0,0,0.5); text-align: left; outline:none; } .btn_add_fin { position: relative; padding: 10px 20px; background-color: #4C75A1; border: none; margin: 10px auto; box-shadow: 1px 5px 10px -5px rgba(0,0,0,0.5); color: #fff; cursor: pointer; } .titl_description { padding-top: 10px; text-align: left; margin-left: 6%; position: relative; float: left; } .display_none_add { } .cont_princ_lists { position: relative; float: left; width: 100%; margin-top: 15px; } .cont_princ_lists > ul > li { position: relative; float: left; width: 100%; height: 75px; left: 0; background-color: #F1F1EF; list-style: none; box-shadow: 1px 10px 20px 0px rgba(218, 215, 206,0.8); z-index: 2; -webkit-transition: all 0.5s; -o-transition: all 0.5s; transition: all 0.5s; } .col_md_1_list { width: 125px; position: relative; float: left; height: 20px; top:50%; margin-top: -10px; } .col_md_1_list > p { font-family: 'Open Sans', sans-serif; font-size: 14px; font-weight: 700; } .col_md_2_list { width: 250px; position: relative; float: left; margin-top: 20px; } .col_md_2_list > h4 { text-align: left; font-family: 'Open Sans', sans-serif; font-size: 14px; font-weight: 700; } .col_md_2_list > p { text-align: left; font-family: 'Open Sans', sans-serif; font-size: 10px; font-weight: 700; color: #999; } .col_md_3_list { width: 121px; position: relative; float: left; height: 14px; top:50%; margin-top: -10px; } .col_md_3_list > .cont_text_date { text-align: right; font-family: 'Open Sans', sans-serif; font-size: 14px; font-weight: 700; } .col_md_3_list > .cont_text_date > p { text-align: right; margin-right: 20px; } .col_md_3_list:hover > .cont_btns_options{ opacity: 1; } .col_md_3_list > .cont_btns_options{ position: absolute; width: 100%; opacity: 0; -webkit-transition: all 0.5s; -o-transition: all 0.5s; transition: all 0.5s; background-color: #F1F1EF; width: 100%; height: 47px; top: 0px; } .col_md_3_list > .cont_btns_options > ul > li{ position: relative; float: right; width: 100%; list-style-type: none; } .col_md_3_list > .cont_btns_options > ul > li:nth-child(1) > a { /* background-color: #ef5350; */ } .col_md_3_list > .cont_btns_options > ul > li > a { display: block; width: 20px; height: 15px; background-color: #4C75A1; padding: 5px 3px; border-radius: 50%; color: #fff; margin-top: -5px; } .col_md_3_list > .cont_btns_options > ul > li > a > i { font-size: 15px; } .list_dsp_none { display: none; opacity: 0; margin-top: 20px; } .list_dsp_true { margin:0px; opacity: 1; } .list_work { z-index: 1; } .list_shopping > .col_md_1_list { border-left: 4px solid #e45; color: #e45; } .list_work > .col_md_1_list { border-left: 4px solid #2A476B; color: #2A476B; } .list_sport > .col_md_1_list { border-left: 4px solid #EF8A18; color: #EF8A18; } .list_music > .col_md_1_list { border-left: 4px solid #EE1E65; color: #EE1E65; } .list_finish_state { opacity: 0.3; margin: 15px 0px; z-index: 1; }
Maria
2022-10-01 01:24:43
var contador = 0 , select_opt = 0; function add_to_list(){ var action = document.querySelector('#action_select').value, description = document.querySelector('.input_description').value, title = document.querySelector('.input_title_desc').value, date = document.getElementById('date_select').value; switch (action) { case "SHOPPING": select_opt = 0; break; case "WORK": select_opt = 1; break; case "SPORT": select_opt = 2; break; case "MUSIC": select_opt = 3; break; } var class_li =['list_shopping list_dsp_none','list_work list_dsp_none','list_sport list_dsp_none','list_music list_dsp_none']; var cont = ' '+action+' '+title+' '+description+' '+date+'  '; var li = document.createElement('li') li.className = class_li[select_opt]+" li_num_"+contador; li.innerHTML = cont; document.querySelectorAll('.cont_princ_lists > ul')[0].appendChild(li); setTimeout(function(){ document.querySelector('.li_num_'+contador).style.display = "block"; },100); setTimeout(function(){ document.querySelector('.li_num_'+contador).className = "list_dsp_true "+class_li[select_opt]+" li_num_"+contador; contador++; },200); } function finish_action(num,num2) { var class_li =['list_shopping list_dsp_true','list_work list_dsp_true','list_sport list_dsp_true','list_music list_dsp_true']; console.log('.li_num_'+num2); document.querySelector('.li_num_'+num2).className = class_li[num]+" list_finish_state"; setTimeout(function(){ del_finish(); },500); } function del_finish(){ var li = document.querySelectorAll('.list_finish_state'); for(var e = 0; e < li.length; e++){ /* li[e].style.left = "-100px"; */ li[e].style.opacity = "0"; li[e].style.height = "0px"; li[e].style.margin = "0px"; } setTimeout(function(){ var li = document.querySelectorAll('.list_finish_state'); for(var e = 0; e < li.length; e++){ li[e].parentNode.removeChild(li[e]); } },500); } var t = 0; function add_new(){ if(t % 2 == 0){ document.querySelector('.cont_crear_new').className = "cont_crear_new cont_crear_new_active"; document.querySelector('.cont_add_titulo_cont').className = "cont_add_titulo_cont cont_add_titulo_cont_active"; t++; }else { document.querySelector('.cont_crear_new').className = "cont_crear_new"; document.querySelector('.cont_add_titulo_cont').className = "cont_add_titulo_cont"; t++; } }
Maria
2022-10-01 01:15:17
THINGS TO DO  Action Title Date SHOPPING WORK SPORT MUSIC ADD SHOPPIGN BUY COFFEE BEANS DODIDONE COFFEE STORE TODAY  <!-- -->